GET A FULL BODY WORKOUT AT HOME IN UNDER 10 MINUTES PER DAY - WITH ONE COMPACT, EASY TO USE TRAINER!
Tone your muscles and burn fat, easily and quickly, from the comfort of your own home.
**THIS WEEK - 50% OFF!**
**FREE SHIPPING WORLDWIDE**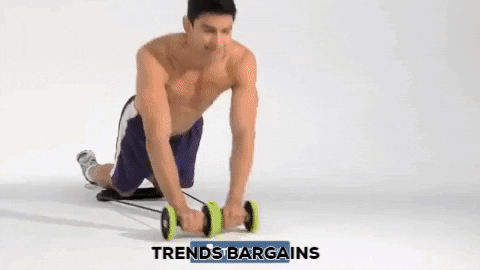 Ab Trainer - Abdominal And Full Body Workout
No matter how many crunches you do or how many ab exercises you buy, yet you just can't get that 6 pack you've always dreamed of. Then, this Power Roll Ab Trainer is the perfect solution to achieve the abs you can't seem to get.
It makes getting abs easy and effortless. It uses bidirectional, power assist technology which targets upper, lower abs and core muscles.
Tired of not getting the results you want when working out? Not able to get the toned abs you want, or burn that last layer of fat?
Whether it is due to lack of time, or ineffective exercising routines, not getting results can be frustrating and demotivating.
Now with the MultiTrainer Pro™ 2.0 you can get a highly effective full body workout - from home, in under 10 minutes per day!
MULTIFUNCTIONAL 
With its dual rollers, the MultiTrainer Pro™ 2.0 offers over 50 highly effective exercises for all major muscle groups, including abs, legs, glutes, arms, chest, and shoulders. Ideal for cardio, yoga, abs, core, endurance, stamina, arms and legs training.
EXTRA EFFECTIVE ABS & CORE WORKOUT 
Offers a wide variety of abs and core-focused exercises to strengthen your upper, middle, lower and oblique abdominals.
DUAL RESISTANCE 
Specially designed to create resistance both on the positive and the negative, minimizing muscle rest time and increasing the effectiveness of each movement, to get quicker and better results.
** SALE ENDS SOON **
COMFORTABLE TO USE 
With its padded anti-slip kneeling board and handles, the MultiTrainer Pro 2.0 is comfortable to use and protects the knees while giving you excellent stability.
ADJUSTABLE RESISTANCE 
Choose the best resistance level for you by wrapping the resistance band around the Resistance Control Pegs at the bottom of the kneeling board.
EASY TO USE 
Very easy to set up and use.
LIGHTWEIGHT AND COMPACT 
Easy to store or take with you anywhere. Never miss a workout, even when travelling or working long hours in the office. Comes with a FREE storage and carry case.
DURABLE AND FLEXIBLE 
Made of strong and flexible materials to ensure durability for the long term.
FEATURES
Dual rollers for an extreme yet effortless workout
Anti-slip kneeling board to protect fragile knees
Targets all parts of your abs and your core
Never lets your abs rest using positive and negative resistance
Adjustable resistance to increase/decrease based on current fitness levels
Target legs, glutes, arms, chest, and shoulders with alternative workouts
The Power Roll Ab Trainer is the perfect solution. It makes working out your abs easier and more effective. Click the big "BUY IT NOW" button to get yours 50% Off!
Emma R. FROM UK
AVA D. FROM CANADA
MIA FROM USA
SOPHIA H. FROM AUSTRALIA 
OUR GUARANTEE
We offer a Risk-free 30 day Money-Back Guarantee on our product. If it doesn't work for you, you'll get your money back! There's absolutely no risk in giving it a try.
We have 24/7 Customer Support. Please contact us if you need assistance.
SHIPPING - Please allow us 7-16 business days for processing & delivery. We apologize for the inconvenience. See our Shipping Policy for more information.