Fix Slouching Instantly: Relieve Back & Neck Pain From Poor Posture and Look Confident!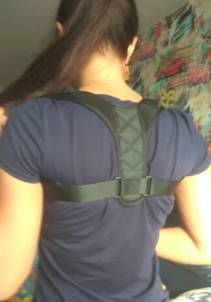 "My posture has improved dramatically after wearing Posture Revamp from Great Stuff Shop for a week! I feel less back and neck pain. And the improved posture has boosted my bust size! Nice bonus for it being better than a pushup bra lol."
- Pragya, Yoga Trainer
BACK & NECK PAIN RELIEF
Millions of people suffer from poor posture, especially due to computer work or play. Long hours working in front of computer screens pushes the head and neck forward causing extreme slouching over years. The POSTURE REVAMP™ counteracts this and helps create healthy confident posture.
LOOK MORE CONFIDENT!
It is said that body language is 80% of communication. And healthy correct posture communicates confidence. Studies show that men and women who have more better posture, get more job interviews! More studies also show that people with great posture get 3x more dates than people who slouch!
Poor posture can be detrimental to health! If you are in front of a screen for gaming or even at work, chances are you suffer from slouching and poor posture. Even athletes can suffer from this due to muscle imbalances.
So whether you are male or female, athlete or gamer, it is a must. POSTURE REVAMP™ fits comfortably and is adjustable to multiple body types. It firmly pulls the shoulders back, eliminating the "rounding" of shoulders which cause unhealthy poor posture. Additionally, our Posture Corrector is amazing for helping athletes maintain proper back form while working out to also help prevent injuries. Look confident, feel confident and be healthier!
Small: For kids or small adults (40 kg - 64 kg)

Medium: For adults up to (68 - 82 kg) .

Large: For adults between (83 kg - 102 kg).

XL (Extra Large): For adults between (103 kg - 120 kg)
Update: We have been blowing up on social media for this reason we are witnessing a massive amount of orders on this product, the supplies will run out soon. Get yours now before its gone.

OUR GUARANTEE
We offer a Risk-free 30-day Money-Back Guarantee on our product. If it doesn't work for you, you'll get your money back! There's absolutely no risk in giving it a try.
We have 24/7 Customer Support. Please contact us if you need assistance.
SHIPPING - Please allow us 7-16 business days for processing & delivery. We apologize for the inconvenience. See our Shipping Policy for more information.